Essays, Moral, Political, and Literary
By David Hume
DAVID HUME'S greatness was recognized in his own time, as it is today, but the writings that made Hume famous are not, by and large, the same ones that support his reputation now. Leaving aside his Enquiries, which were widely read then as now, Hume is known today chiefly through his Treatise of Human Nature and his Dialogues Concerning Natural Religion. The Treatise was scarcely read at all during Hume's lifetime, however, and the Dialogues was not published until after his death. Conversely, most readers today pay little attention to Hume's various books of essays and to his History of England, but these are the works that were read avidly by his contemporaries. If one is to get a balanced view of Hume's thought, it is necessary to study both groups of writings. If we should neglect the essays or the History, then our view of Hume's aims and achievements is likely to be as incomplete as that of his contemporaries who failed to read the Treatise or the Dialogues.… [From the Foreword by Eugene F. Miller]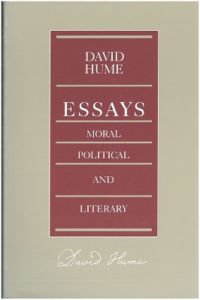 Translator/Editor
Eugene F. Miller, ed.
First Pub. Date
1742
Publisher
Indianapolis, IN: Liberty Fund, Inc. Liberty Fund, Inc.
Pub. Date
1987
Comments
Publication date details: Part I: 1742. Part II ( Political Discourses): 1752. Combined: 1777. Includes Political Discourses (1752), "My Own Life," by David Hume, and a letter by Adam Smith.
Copyright
Portions of this edited edition are under copyright. Picture of David Hume courtesy of The Warren J. Samuels Portrait Collection at Duke University.
GLOSSARY
Page 4

Good offices: acts of good, voluntarily tendered.

Touched with contempt: affected by another's undervaluing or scorn.

Pungent: piercing, sharp.

Sensibility: quickness of perception; a disposition to being easily or strongly affected; delicacy.
Page 6

Nobler arts: the liberal arts or sciences. "Arts that respect the mind were ever reputed nobler than those that serve the body"—Ben Jonson (quoted in Samuel Johnson's
Dictionary, under "Art").

Relish: taste; delight in; power of perceiving excellence.

Incommodious: inconvenient; vexatious.
Page 7

Melancholy: pensiveness; quietly serious thoughtfulness, sadness, or longing.

Nice: accurate in judgment to minute exactness; superfluously exact.

Vacancy: emptiness; sense of longing.

Want: need; deficiency.

Sensibly: quickly; keenly.
Page 8

Bottle companion: drinking friend.
Page 9

Mean: lacking dignity; spiritless; low in worth or power.

Pusillanimous: mean-spirited; cowardly.
Page 10

Entertain jealousy: regard with suspicious fear, vigilance, or caution.
Page 11

Want: absence.
Page 12

Licentiousness: boundless liberty; contempt of just restraint.

Rouzed: aroused; excited to thought or action.

Animated: encouraged; incited.
Page 15

Levity: inconstancy or changeableness; unsteadiness; trifling gaiety.

Artifice: trickery; fraud; stratagem.

Faction: tumult, discord, or dissention, especially as arising from disputes among civil or religious parties.
Page 16

Humours: general turn or temper of mind; present disposition.

Affected popularity: tried to please the crowd.

Licentious: unrestrained by law or morality.
Page 17

Fiefs: estates.

Doge: title of the chief magistrate of the republic of Venice.
Page 18

Factions: contending parties in a state.

Elevation: exaltation; dignity.
Page 20

Proscription: a sentence of death and confiscation of one's property.
Page 21

Païs conquis: conquered lands.
Page 26

Meanness: want of dignity; low rank.

Desert: degree of merit or demerit.
Page 27

Enow: the plural of
enough.
Page 28

Panegyric: a eulogy or encomium; high praise.

Religious: exact; strict.

Fain: to wish; to desire fondly.
Page 30

A woman from the stews: a prostitute.
Page 31

Pro aris & focis: in defense of our altars and our fires.
Page 32

Soldan: sultan; the supreme ruler of one or another of the great Mohammedan powers or countries of the Middle Ages.
Page 33

Mamalukes: members of the military body, originally composed of Caucasian slaves, that seized the throne of Egypt in 1254 and continued to form the ruling class in that country during the eighteenth century.

Prætorian bands: the bodyguards of the emperors of ancient Rome.

Prodigal: lavish; wasteful.
Page 34

In no stead: to no advantage.
Page 38

Palliate: to cover with excuse; to extenuate or soften by favorable representations.

Appellation: name or title.

Peculiar: appropriate; belonging to any one with exclusion of others.

Tyes: ties; bonds or obligations.

Factitious: made by art, in opposition to what is made by nature.
Page 39

Exclaims: cries out.

Probity: honesty; sincerity; veracity.

Ascendant: superiority; elevation.
Page 40

Refractory: obstinate; stubborn; perverse; unmanageable; rebellious.

Intestine: internal; domestic.
Page 41

Owned: acknowledged.
Page 43

Courts: jurisdictions; authorities.
Page 47

Violent: forceful.
Page 48

Temerity: great boldness; rashness.
Page 49

Ecclesiastical preferments: places of honor or profit in the church.
Page 50

Byass: bias; propensity or inclination.

Specious: plausible; beautiful.
Page 51

God's vicegerent: God's lieutenant; someone entrusted with power by God.

Risque: risk.

Durst I: If I dared.

Period: end or conclusion.
Page 52

In his closet: in privacy or retirement.
Page 53

Euthanasia: easy death.
Page 55

Extirpating: rooting out; eradicating.
Page 58

Aliment: nourishment; food.
Page 60

Contrariety: opposition; inconsistency; a quality or position destructive of its opposites.
Page 61

Discover: show; exhibit.
Page 62

Christendom: the collective body of Christianity; the regions in which the inhabitants profess the Christian religion.
Page 64

Generous: daring; vigorous; liberal.
Page 70

Counterpoise: counterweight; equivalence of force in the opposite side.
Page 73

Pernicious: mischievous in the highest degree; destructive.
Page 74

Unaccountable: not explicable; not to be solved by reason; not reducible to rule.

Credulity: easiness of belief; a readiness to credit.

Sublunary: earthly; of this world.

Raptures: violent seizures; violence of any pleasing passion; uncommon heat of imagination.

Transports: raptures; ecstasy.

Illapses: sudden attacks; emissions or entrances of one thing into another.
Page 75

Addresses: petitions.

Incensed: angry; enraged.

Diffident: lacking in confidence.

Egregious: eminent; remarkable; extraordinary.
Page 76

Votaries: those devoted, as by a vow, to any particular service, worship, study, or state of life.
Page 77

Remissness: carelessness; negligence; lack of ardor; inattention.
Page 78

The Romish church: the Roman Catholic church.

Sectaries: persons who divide from public establishment and join with those distinguished by some particular whims; followers of a particular sect.

Regular: methodical; strict; orderly.

Infirmity: weakness; failing; disease or malady.

Abject: mean; worthless; base; groveling.
Page 79

Prerogative: exclusive or peculiar privilege or right; preeminence; superiority.
Page 80

Divines: ministers or priests; theologians.
Page 81

Splenetic: fretful; peevish.

Odious: hateful; detestable.
Page 85

Subjoin: to add afterward.
Page 86

Tincture: color or taste superadded by something.
Page 92

Just: exact; accurate; orderly.
Page 93

Head: topic of discourse.

Internal police: the regulation and government of a city or country, so far as regards the inhabitants.
Page 95

Beggars: impoverishes.
Page 103

Canvassed: examined; debated or discussed.
Page 104

The pathetic: that which moves the passions.

Sublime: grand or lofty in style.
Page 105

Chaste: pure; uncorrupt.
Page 107

Adulterate: corrupted with some foreign mixture.
Page 108

Taper: a candle.

Meridian sun: the noonday sun.

Resolution: settled thought; determination of a cause.
Page 109

Give a propriety to: to justify.
Page 111

Nicety: minute accuracy of thought; exact discrimination; subtlety.
Page 115

Chimæra: a vain and wild fancy, as remote from reality as the existence of the poetical Chimera, a monster feigned to have the head of a lion, the belly of a goat, and the tail of a dragon.
Page 116

Bashaws: form of the Turkish title
Pasha, meaning head or chief.

Cadis: town or village judges among the Turks or other peoples.
Page 119

Stop: obstruction; hindrance; check.
Page 124

Ere: before.
Page 125

Rant: high-sounding language unsupported by dignity of thought.
Page 130

Foppery: foolish ostentation; idle affectation; impertinence.
Page 133

Muscovites: Russians.
Page 134

Garniture: ornament.
Page 138

Mortification: humiliation; subjection of the passions.

Under-workman: an inferior or subordinate laborer.

Drapery: the dress of the figures in a painting.
Page 139

Enthusiasm: heat of imagination; elevation of fancy.
Page 140

Impetuosity: force.
Page 141

Odoriferous: fragrant; sweetly scented.
Page 142

Bowers: a sheltered place covered with green trees, twined and bent.

Chearful: cheerful.

The schools: systems of doctrine as delivered by particular teachers.
Page 143

Debauch: fit of intemperance; excess.

Wanton: frolicsome; gay; sportive; airy.

Calumny: slander; false charges; groundless accusations.

Ravished: enraptured; ecstatic; overcome by a pleasing violence.
Page 144

Transported: put in ecstasy; ravished with pleasure.
Page 145

Fabulous: feigned; the product of fables or invented tales.

Loose: liberty; freedom from restraint.

Jollity: in a disposition to noisy mirth.
Page 146

Emergence: an emergency; any sudden occasion or pressing necessity.
Page 147

Timorous: fearful.

Sloth: laziness; sluggishness; idleness.
Page 149

Aurora: The goddess who opens the gates of the day; poetically, the morning.
Page 151

Lassitude: weariness; fatigue.
Page 157

Pile: an edifice; a building.

At adventures: by chance; without any rational scheme.
Page 161

Scholastic: adherent of a school; one who is needlessly subtle.
Page 163

Palpable: perceptible by the touch; plain; easily perceptible.
Page 170

Mortify: to subdue.
Page 173

Nerves: the organs of sensation passing from the brain to all parts of the body.
Page 175

Dropsy: a collection of water in the body, from too lax a tone in the solids, whereby digestion is weakened and all the parts stuffed.

Puerile: childish; boyish.
Page 176

Voluptuous: given to excess of pleasure.
Page 178

Phthisis: a consumption, or wasting of the body, arising from any one of several causes, such as an ulcerated state of the lungs.
Page 180

Imbecility: weakness; feebleness.

Phlegm: sluggishness; dullness.
Page 183

Municipal laws: the civil or positive laws of a state, as distinguished from laws of nature and laws of nations.
Page 185

Condition: superior rank.

Seraglio: a palace or residence of a sultan; a harem; a house or part of a house allotted to women in a Muslim household and designed for maximum seclusion.
Page 187

Humour: temper of mind; disposition.
Page 188

Doom: destruction.
Page 189

Establishment: standing; income.
Page 191

Waterman: a ferryman; a boatman.
Page 192

La belle nature: nature as beautified or adorned by art.

Epistolary: suitable to letters.
Page 193

Copious: not confined; diffuse.
Page 194

Toilettes: the receptions of visitors by a lady during the concluding stages of her process of dressing; very fashionable in the eighteenth century.

Arcadia: a mountainous district in the southern peninsula of Greece, taken in literature as an ideal region of rural contentment.
Page 196

Conceit: pleasant fancy; gaity of imagination; acuteness; pleasant thought.
Page 197

Vulgar: those with common or untrained minds, as distinguished here from "men of sense."
Page 198

Complexion: quality or character.

Ingenious: noble or liberal.
Page 202

Similitude: likeness; resemblance.

Knot: any bond of association or union; a confederacy; a small band.
Page 204

Rusticity: qualities of one who lives in the country; simplicity; artlessness; rudeness; savageness.

Phlegmatic: dull; cold; frigid.
Page 206

The Franks: from the third century &ad; onward, a generic name for the Germanic tribes that established themselves in western Europe; a western European.
Page 209

Muscovite: Russian.

Effeminate: soft; voluptuous; feminine.
Page 213

Vulgar: commonplace.
Page 215

Coxcomb: a superficial pretender to knowledge or accomplishments; a fop.

Subtilize: to make less gross or coarse; to refine.
Page 220

Numbers: verses; poetry.
Page 222

Dolce peccante: sweet sinning.
Page 224

Wrought: produced; worked.
Page 226

Remark: to observe; to distinguish; to point out.
Page 227

Scruples: doubts; hesitates.

Fustian: a high swelling kind of writing made up of heterogeneous parts, or of words and ideas ill associated; bombast.
Page 231

Habitudes: states with regard to something else; relations.
Page 238

Florid: embellished; brilliant with decorations.

Palls: makes insipid or vapid.
Page 240

Specious: pleasing to the view; plausible.
Page 244

Pathetic: affecting the passions; moving.
Page 245

Victuals: provision of food; stores for the support of life.
Page 246

Ruffs: puckered linen ornaments, formerly worn about the neck.

Fardingales: farthingales; hoops or padded rolls once worn about the hips to spread the petticoat to a wide circumference.
Page 247

Complaisance: the act of yielding to the desire or demand of another; submission.
Page 257

Entrench on: encroach or trespass upon.
Page 259

Circumstantial: detailed.

Burthens: burdens.

Amor patriæ: love of country.
Page 261

On a sudden: sooner than was expected; without the natural or commonly accustomed preparations.

Retrench: to cut off; to live with less magnificence or expense.
Page 262

Abatement: lessening; diminution.

Wonted: accustomed; usual.
Page 265

Engrossed: seized; appropriated.
Page 266

Sorry: worthless.

Fallow: unplowed; uncultivated.
Page 267

Grasiers: those who feed cattle.

Police: order; regulation; administration.
Page 269

Porter: a kind of beer, dark brown in color and bitter in taste, which originally was drunk chiefly by porters and the lower class of laborers.

Subject: that which can be drawn upon or utilized; means of doing something.

Expense: expenditures.

Libertine: licentious.
Page 270

Recruits: resupplies; replenishes.
Page 271

Fund: stock that can be drawn upon; supply.

Apace: speedily.
Page 272

Billet-doux: a love letter.

Discovered: revealed; divulged.
Page 273

Bias: regular course; inclination.
Page 274

Inveterate: obstinate by long continuance.

Tragical: calamitous; dreadful.

Undaunted: unsubdued by fear; bold; intrepid.
Page 276

Ortolans: small birds accounted very delicious.
Page 284

Dearness: high price.
Page 287

Specie: coined money.
Page 290

Overplus: surplus.
Page 292

Numerary: of or pertaining to a number or numbers.
Page 297

Tell out: count out.
Page 298

For futurity: for time to come.

Occupation: employment; business.

Somewhat: something.
Page 308

Offer: price bid.
Page 311

Repletion: the state of being over full.
Page 313

Recruits: new supplies.
Page 314

Absentees: proprietors who live elsewhere.
Page 317

Plate: silverware.
Page 319

Finds surety: gives a pledge, bond, guarantee, or security for the fulfillment of an undertaking.
Page 329

Repine: to be vexed or discontented by something.
Page 330

Factors: agents for another; those who transact business for another in mercantile affairs.
Page 332

Romance: a fable or tale, as distinguished from an authentic history.
Page 335

Jealousy of: zeal in guarding.
Page 337

Barred: Hume's meaning is "would have barred."
Page 340

Funding: converting into a more or less permanent debt bearing regular interest.

Supine: negligent; thoughtless; inattentive.
Page 341

Downfal: downfall.
Page 353

Scritoire: a type of large cabinet with drawers and the convenience of a table to write upon; a bureau.
Page 357

Boxes: a box under the driver's seat on a coach; hence, in general, the seat on which the driver sits.
Page 358

Adieu: farewell.
Page 360

Projectors: those who form visionary or impracticable schemes or designs.
Page 362

Cudgel-playing: a fighting or sporting contest with short heavy sticks or clubs.

Faith: trust in the nation's credit-worthiness.
Page 363

Exchequer: the court to which are brought all the revenues belonging to the crown.

Trepan: to catch; to ensnare.

Bugbear: a frightful object; a walking specter, imagined to be seen—generally used in the eighteenth century for a false terror to frighten babes.
Page 367

Irrefragable: not to be refuted; superior to argumental opposition.
Page 369

Pupillage: state of being still like a pupil.
Page 381

Straitened: reduced to hardship or privation.
Page 412

Raree-shows: (formed in imitation of the foreign way of pronouncing
rare shows): shows carried in boxes.
Page 463

Paralogism: a false argument.
Page 474

They had: they would have.
Page 494

Repine: fret; vex oneself; be discontented.
Page 500

Event: the consequence of an action; the conclusion; the upshot.
Page 503

Prepossessions: preoccupations; preconceived opinions or prejudices.
Page 505

Wrested: distorted.
Page 506

Bottom: foundation; groundwork.

Of a piece: consistent; in harmony or agreement.
Page 507

Poise: weight.

Essay: attempt; endeavor; trial.
Page 508

Antiquated: obsolete; out of date.
Page 510

Sacerdotal: priestly; here, the papal office.
Page 517

Casting: deciding; decisive.
Page 519

Session: the right to sit or occupy a seat.
Page 521

Break: to dismiss; to deprive of a commission or rank.
Page 522

Aphorisms: principles or precepts expressed in a few words.
Page 534

Belles Lettres: polite, refined, or elegant literature.
Page 537

Affect: to be fond of or pleased with.
Page 543

Parterre: the part of the floor of a theater behind the orchestra.

Phisiognomy: physiognomy; the face or countenance, especially viewed as an index to the mind and character.

Put a Violence upon: to apply severe or undue constraint to some natural process or habit so as to prevent its free development or exercise.
Page 544

Subscribing: attesting by writing one's name.
Page 554

Arrant: bad in a high degree; notorious; complete; manifest.
Page 557

Satyr: satire.

Backwardness: reluctance; disinclination; unwillingness.
Page 565

Complexion: bodily constitution.

Essays: the first tentative efforts in learning or practice.
Page 567

Brings: leads by degrees; makes liable to anything.
Page 572

Fairly: completely; plainly; suitably.
Page 579

Sophisticated: adulterated; corrupted with something spurious; not genuine.